Teacher POV: Online School Edition
When Covid-19 struck the United States more than seven months ago, it slowly started to redefine how Americans live their everyday lives. Schools, businesses, and facilities everywhere had to be shut down so that citizens could begin the social distancing act that has slowly taken over our existence. While some companies have reopened since then, most school districts have not. With this it leaves teachers performing their jobs from the same place us students are attending school, home.
"​Some pros of online school are obviously that everyone is safer during this time of COVID-19 since we aren't all in the building at the same time, and I feel that students have much more flexibility to do their work," English teacher Lindi Stammann said. "Being online also means that grading student essays is easier because instead of grading through a physical stack of essays, all I need to grade is my computer, a comfy seat, and the digital tools that we've been provided," Stammann said, "Some Cons are that I really miss seeing my students. I didn't get to finish out last year with my group from last year, and it was very upsetting. And even though I get to 'see' my current students now via Zoom, it's not quite the same. Another con is that everyone is also subjected to the whims of technology. There could be power outages, my wifi might crash, maybe students don't have a strong connection all the time. However, even though there are some cons, I feel that online school has taught me to be more flexible as a teacher and to give myself some slack." While some districts in the Houston area have chosen to reopen, Alief is still undecided when they will reopen its doors for in-person learning. This decision has proven to be challenging in many ways for some of the teachers.
​ "I was concerned about how to manage being a teacher at home and at the same time helping my 6 year and 4-year-old learn at home. My 6-year-old is online school as well and this has been a challenging time trying to manage both my job and her schooling," U.S Government and Psychology teacher Rhonda Carter said. "We are managing as a family. Luckily, her school starts after ours, so I can get my classes started and then get her started during my break. We both have lunch at the same time and my husband helps out as well," Carter said.
Both Stammann and Carter have expressed their difficulties with technology in this time but have said that it's nothing too difficult to fix. Both are also looking forward to the time when everyone will be able to meet in-person again safely.
"Don't get me wrong. I love being with my students, and I love teaching face to face, but even though I would be happy to go back, I would also be worried as well. Many of my close family members have underlying health issues, so I would be very worried [should a COVID-19 case arise at school] that I would inadvertently spread it to my family. That, and many of my fellow teachers also have underlying health conditions, so I would be worried about them getting ill as well," Stammann said. "Now, if we can all go back to school and there is zero chance of anyone getting sick, I would be the first one through the door."
"I am looking forward to going back once it is safe enough to do so. I really miss the interaction with my students, and I am anticipating seeing their faces in person one day," Carter said.
About the Writer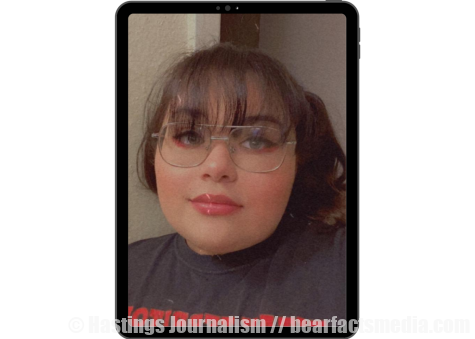 Karina Sanchez, Managing/News Editor
She is a Junior at hastings high school. Her favorite color is yellow she likes to read and watch anime.